Book Notes: Miranda in Milan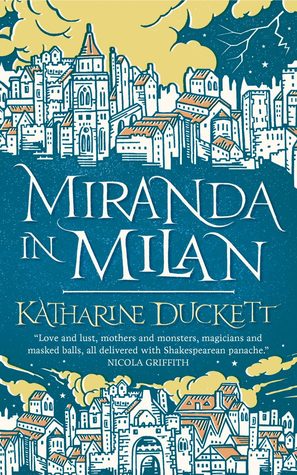 Miranda in Milan by Katharine Duckett
Read Jun 5, 2020 - Jun 9, 2020
⭐⭐⭐⭐

Miranda in Milan is the first in a collection of LGBTQ+ novellas that Tor gave out for free this month, in celebration of Pride.
Based on characters from Shakespeare's Tempest, it is an imagining of the story of Prospero's daughter, Miranda, after her return to Milan. In this retelling, she is a free-thinking young woman that uncovers dark secrets about her father, falls in love with another powerful young woman, and ultimately saves the day (spoilers!).
There is something very sweet and wholesome in Duckett's Miranda. She is luminous, untouched by so-called "civilization". I found it quite delightful.
If you're not familiar with Shakespeare's story, I recommend reading a summary of The Tempest before this novella. It will help add depth to the characters, and will explain certain references.
Book highlights
Long ago she had thought of civilization as a thin, shimmering cloak, something like the aura she could see around Ariel. She saw no glow on her own skin, though, and felt no noble lineage leading her through life, no matter how often her father promised her that birthright.
But to be in this world, you must always be a little less than yourself. With every day that passes, you must give up a little more. And . . . it hurts. If you dwell on it, it sometimes hurts too much to bear.
Yet she felt she would soon tire of such teaching, of instructing someone in truths that ought to be evident, of guiding through ignorance a person who should be better equipped to navigate the nuances of the world.
"Love is life, Miranda." Her mother blinked, the motion slow and strange to see. "It matters not in what form it comes."
Three women at the end of everything, holding fast to the edge of the earth, in thunder, lightning, and in rain.