Book Notes: The Will to Battle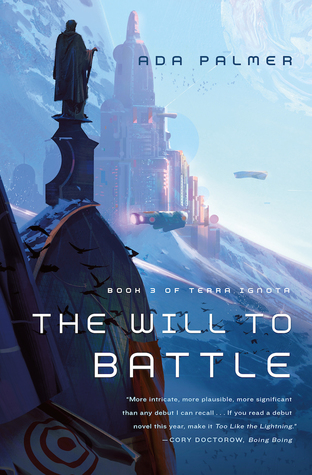 The Will to Battle by Ada Palmer
Read Jul 23, 2021 - Aug 24, 2021
⭐⭐⭐⭐⭐

The Will To Battle, the third book in the Terra Ignota series, is written by Mycroft three months after the events described in Too Like the Lightning and Seven Surrenders.
The style is different from the previous two books. This is not a vetted history for public release, but rather something that Mycroft is writing "for posterity". The tone is more casual and less edited. We see that Mycroft's sanity is (maybe?) slipping. World tensions continue escalating, and the book ends with the planet at war for the first time in three centuries.
As with the previous installments, the book ends on a cliffhanger. I'm looking forward to the fourth (and final?) book, Perhaps the Stars.
Book Highlights
It is not power that corrupts, but the belief that it is yours.
Tags: books